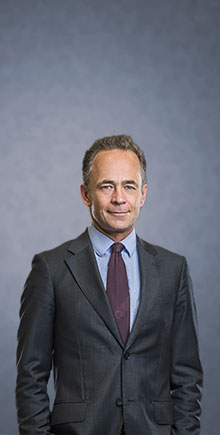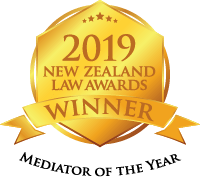 © Copyright 2020 Mark Kelly
- Barrister & Commercial Mediator
Resolving High Value Disputes
Mark is one of New Zealand's leading commercial mediators, with a reputation for skill, determination, commerciality, and relatability (see: Commercial Mediation – Testimonials).
He is the President of the Arbitrators' and Mediators' Institute of New Zealand.
He won the Mediator of the Year Award at the 2019 New Zealand Law Awards.
He is also a sought-after adviser on medico-legal and dispute resolution issues.
Background
Mark graduated LLB (Hons) BA from Auckland University in 1993, and was admitted to the New Zealand bar that year.
From 1994-2004, Mark was a litigator at leading law firms in New Zealand and Ireland. Since 2005, he has been a barrister, practising now from Bankside Chambers, Auckland.
As counsel, Mark has litigated a wide variety of civil disputes. He has appeared in the New Zealand High and District Courts many times, and in the Court of Appeal. He also has experience in the Employment Court, the Employment Authority, the Weathertight Homes Tribunal, the Health Practitioners Disciplinary Tribunal, and the Coroners Court. He has acted in numerous arbitrations.
A selection of cases in which Mark appeared as counsel is linked here: Cases.
Mark also appeared many times as counsel in commercial mediations, experience which led to him becoming a commercial mediator.
His commercial mediation practice has grown rapidly, and it has become his full-time focus.
He also has extensive experience in, and continues to undertake, medico-legal and dispute resolution advisory work.
Mark is married, with two teenage children, and lives just north of Auckland.
Commercial Mediation
Mark completed the Mediating Disputes course at Harvard Law School. He is also Resolution Institute trained.
He is a Fellow of the AMINZ. He is also a Fellow of the International Academy of Mediators.
He has been an AMINZ Councillor since 2015. He was elected President in 2020.
Mark is on mediation panels for AMINZ, Complete Online Dispute Resolution (CODR), the Health and Disability Commission, the New Zealand Dispute Resolution Centre, the New Zealand Law Society Lawyers Complaints Service, and the Weathertight Homes Tribunal.
He is a facilitator with the Greater Christchurch Claims Resolution Service.
He is on the AMINZ Rural List. As an experienced rural mediator, he has been heavily involved in submissions to Parliament on, and training others about, the Farm Debt Mediation Act 2019. He is an accredited FDMA Mediator.
He is an appointee on the World Intellectual Property Organisation Center's List of Mediators. He is also on the AMINZ Intellectual Property List.
He has extensive experience successfully mediating high value disputes involving: general commercial issues (company, contract, debt, education, employment, finance, negligence, partnership, property, relationship property (family businesses)), construction, insurance, intellectual property, trusts and estates, rural and farm debt, earthquake, weathertightness and international issues.
He has worked with international parties, and mediated cross-border issues. He is a member of Bankside Chambers' Singapore office – see www.bankside.co.nz/singapore.
Mark was the winner of the Resolution Institute's 2015 award for contribution to dispute resolution by an emerging practitioner. In 2016 he was awarded the AMINZ Ann Edge Memorial Award for Excellence in Fellowship Mediation and the Fellowship Mediation Prize.
Medico-legal
Mark has extensive experience in dealing with medico-legal issues. For many years, he has been one of the leading counsel regularly instructed by New Zealand Medical Professionals Insurance to act for its policyholders.
He regularly advises health practitioners on: complaint management, privacy, professional discipline, interactions with other agencies (including the Police and ACC), Coronial enquiries, partnership/commercial issues, and dispute resolution generally.
He has represented practitioners in the Health Practitioners Disciplinary Tribunal, and the Coroner's Court.
Dispute Advisory
Mark is frequently called on to advise on dispute resolution in commercial matters. He provides opinions, strategic input, tailored dispute resolution process design (consensual and determinative), negotiation coaching, and recovery options.